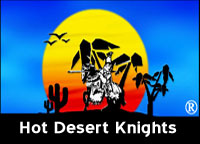 Hot Desert Knights as a company was started in February 1999. Actually the story is kind of unique. In 1998 Bill Gardner (Hot Desert Knights - founder) started having bareback parties his home in Palm Springs. They grew from just a few friends to more than 60 guys each month. He finally had to move the parties from his home because of the large number of men who were attending, to a nearby gay resort in town. At the time he owned a business that produced safety-training videos for industry and private corporations.
At the end of one of the parties he was sitting around relaxing when one of the guys said; "you guys make videos, right," he said yes and the man replied; "well, why don't you make bareback fuck videos?" Bill's response was; "because we never thought of it." He thought about it, did some research on the net to see if their was a market for such videos and it seemed that their was. So, in February 1999 he produced Hot Desert Knights first two movies and put them on the net to see what happened. They were a hit and Hot Desert Knights have been producing them ever since.
Hot Desert Knights, are the world wide reknowned producers of the rawest, hottest and wettest videos for the leather, bareback and fisting community! HDK films feature adult porn stars from all over the globe in the hottest hardcore bareback action, you are every likely to see anywhere.

Hot Desert Knights has currently over ONE HUNDRED titles in stores.
The HDK line of films is consistently a chart topper and blockbuster seller on release day.