NEW HDK MOVIE ::: CUMMING SOON :::
Featuring:
• Bareback Best Breeder & Porn Star Steve Wylie
• 110 Minutes of NON-Stop Bareback Fuck-Fury Action
• 5.1 Surround Sound

BAREBACK BEST BREEDER!
Steve Wylie, one of HDK's most prolific and popular models, stars is in this bareback extravaganza of best bareback breeder moments!
Steve Wylie fans have been requesting more of Steve. It seems that the fans of Steve Wylie just can't get enough of his rock hard ass slamming cock and copious quantities of cum. Few models in the adult industry have the raw, unleashed, hard pounding fuck-fury that is the trademark of any Steve Wylie encounter. "Steve Wylie RAW – Bareback Best Breeder" is a combination of six scenes for a total of nearly two hours of ass fucking fury as hole after hole gets pummeled and bred with one huge load after the next. From the infamous HDK dungeon, to bathroom glory holes, massage tables and to even the back of a truck, Steve fucks his way from one cum spewing climax to the very next, all with unbridled fury and intensity until the bottoms are dripping with Steve's manly jizz.

Pop in this DVD, break out plenty of lube, and get ready for your hole to pucker with excitement as you watch Steve shoot one hot load after the next with this no-holes-barred "Bareback Best Breeder" feature film!
Steve Wylie, Larry Wolf, Steve Tuck, Trey Maddox, Marco DiAngelo, Rob Wright, Kyle McBride, Chad Adams, Ray Butler, Bob Lowe, Daddy Ken, Dutchpig, Rex Thomas.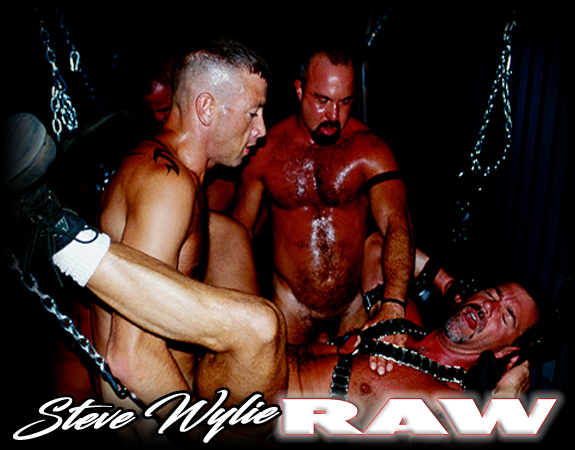 Keep Checking the HDK Porn Blog

for more information